Ambulatory Surgical Center
Orthopedic Surgery in Watertown, NY
North Country Orthopaedic Group performs many surgeries and interventional procedures in our high tech, state-of-the-art ambulatory surgical center. The surgery center is located in the same building as the orthopedic office, so there is no need to drive across town for your orthopedic care. Having an ambulatory surgery center on site benefits both patients and their physicians. Everyone is within close proximity to each other, making it easy to achieve seamless communication and coordination from start to finish. Studies have shown that better patient outcomes are achieved when ancillary services, like ambulatory surgery and physical therapy, are integrated into an orthopedic practice. Another perk of having our own ambulatory surgical center is the draw it has for the area's most talented orthopedic surgeons. Since 1959, North Country Orthopaedic Group has been advancing orthopedic care in New York's North Country region. For more information, visit our Ambulatory Surgery Center website or call North Country Orthopedic Group in Watertown, NY at (315) 782-1650 for a surgery appointment.
In the News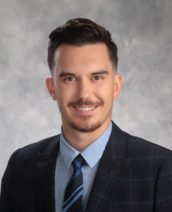 We are pleased to welcome Dr. Scott W. Mollison to the practice.
Dr. Mollison travels from Canada and is joined by his wife Christina and their 4-month old daughter Aliah. He is a member of the Arthroscopy Association of North America and the American Academy of Orthopaedic Surgeons. His fellowship was completed at the Pan Am Clinic in Manitoba, Canada and was focused on sports medicine and upper extremity reconstruction. While completing his fellowship he had the opportunity to locum in a rural hospital outside of Winnipeg where he focused on trauma and on-call services. During this year he obtained his Sport and Exercise Medicine diploma and was afforded the opportunity to participate in sports coverage for the NHL team Winnipeg Jets as well as the CFL Blue Bombers. He attended multiple games and actively participated in pre-season physicals.
Dr. Mollison has always had a passion for hockey and played for the Purple Eagles, Division 1 hockey at Niagara University in upstate NY, where he attended for his BSc. He later attended the University of Manitoba for his MD and completed his residency at the University of Saskatchewan. While in Saskatchewan he was fortunate enough to join a team and travel to Haiti where he was able to offer his services to the people that were in desperate need.
Thank you for welcoming Dr. Scott Mollison and his family to Watertown and to the North Country Orthopaedic Group.