Sports Medicine
What is Sports Medicine?
Compared to general orthopedics, sports medicine is a relatively new specialty area within orthopedic medicine. It was originally developed to provide high quality medical care for professional athletes and Olympic athletes. Today, sports medicine, or SEM (sports and exercise medicine) goes beyond that – it is devoted to three general types of patients:
Patients with injuries related to exercise
Patients looking to improve fitness and overall wellness through exercise therapy
Patients who are avid or professional athletes, looking to enhance performance and prevent injury
Conditions TreatedSports medicine is not limited to any particular part of the body. It combines a broad knowledge base of general orthopedics and advanced training in sports medicine techniques. Some of the most common conditions treated by a sports medicine physician are listed below, from head to toe.
Treatment – Surgical and Non-SurgicalThe first course of action for an injured athlete is to see a professional for a thorough evaluation of your pain level, range of motion, and function. Routine diagnostic imaging with X-ray and MRI can confirm the diagnosis.Many sports and exercise injuries affect soft tissues, like muscles, tendons, ligaments, and cartilage, which can benefit from our physical medicine and rehab (PM&R) and therapy services. Partial tears can be resolved without surgery, but more serious injuries may require surgery followed by rehabilitation. When surgery is indicated, a sports medicine doctor will generally recommend arthroscopy surgery. It is a minimally invasive procedure that can simultaneously diagnose and repair joint damage. Because it can be done with 2 or 3 tiny incisions, there is less pain and down time compared to traditional surgery. Learn more about arthroscopy in our patient education center.For northern New York residents, there is no better choice than North Country Orthopaedic Group for sports medicine care. We perform all kinds of minimally invasive surgeries and have several specialists who focus on non-surgical methods for injured athletes. Call (315) 782-1650 to schedule a visit in Watertown, NY or you can use our online appointment request form.
In the News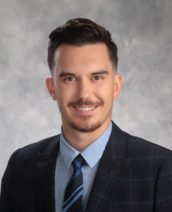 We are pleased to welcome Dr. Scott W. Mollison to the practice.
Dr. Mollison travels from Canada and is joined by his wife Christina and their 4-month old daughter Aliah. He is a member of the Arthroscopy Association of North America and the American Academy of Orthopaedic Surgeons. His fellowship was completed at the Pan Am Clinic in Manitoba, Canada and was focused on sports medicine and upper extremity reconstruction. While completing his fellowship he had the opportunity to locum in a rural hospital outside of Winnipeg where he focused on trauma and on-call services. During this year he obtained his Sport and Exercise Medicine diploma and was afforded the opportunity to participate in sports coverage for the NHL team Winnipeg Jets as well as the CFL Blue Bombers. He attended multiple games and actively participated in pre-season physicals.
Dr. Mollison has always had a passion for hockey and played for the Purple Eagles, Division 1 hockey at Niagara University in upstate NY, where he attended for his BSc. He later attended the University of Manitoba for his MD and completed his residency at the University of Saskatchewan. While in Saskatchewan he was fortunate enough to join a team and travel to Haiti where he was able to offer his services to the people that were in desperate need.
Thank you for welcoming Dr. Scott Mollison and his family to Watertown and to the North Country Orthopaedic Group.