Endocrinology
What is Endocrinology?
Endocrinology is the study of the endocrine system, which regulates the balance of hormones throughout the body. The study of endocrinology requires in-depth knowledge of the adrenal, thyroid, parathyroid, and pituitary glands. Endocrinologists treat metabolic disorders, which can affect how the body processes key nutrients for a healthy body.
Endocrinology and Orthopedics
While the link between endocrinology and orthopedics may not be obvious, it may help to think about vitamin D and the case of rickets. Vitamin D is needed for proper calcium absorption, which is necessary for strong bones. Rickets is a condition that causes fragile bones and skeletal deformities in children. The main cause of rickets is a severe lack of vitamin D and/or calcium. Endocrinology teaches physicians how to test for many nutrient deficiencies that can affect bone health.
Conditions Treated
An endocrinologist can address a variety of hormone-related concerns. Some of the most common include diabetes, thyroid problems, metabolic disorders, and nutrient deficiencies. An orthopedic endocrinologist typically deals with osteoporosis (loss of bone density) and calcium or vitamin D disorders that affect bone health. Osteoporosis is the most common bone disease, which affects women more than men.
Treatment – Medication and Lifestyle Changes
Seeing an endocrinologist with an interest in orthopedics is the ideal type of physician to seek if you are concerned about your bone health. The doctor will order specialized lab tests to evaluate your nutritional profile and consider your entire medical history. An X-ray or bone density scan can be useful if osteoporosis is suspected.In the case of osteoporosis, medication and certain lifestyle changes can be an effective treatment. As osteoporosis progresses, there is an increased risk of fracture due to weakened bones. One type of medication used to treat osteoporosis is biophosphonates, which are designed to maintain bone density and reduce the fracture risk.  Lifestyle changes that can be effective (in addition to medication) include maintaining a healthy weight and nutritious diet, exercising, and avoiding tobacco and alcohol. If you are anywhere near Watertown, New York and you want to see an expert on osteoporosis, or any other issue related to metabolism or hormones, visit North Country Orthopaedic Group. The Diabetes, Osteoporosis, and Endocrine Center, located onsite, assists our medical team to help patients with these types of problems. Call (315) 782-1650 for more information today.
In the News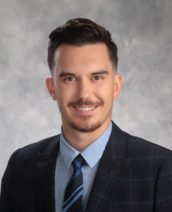 We are pleased to welcome Dr. Scott W. Mollison to the practice.
Dr. Mollison travels from Canada and is joined by his wife Christina and their 4-month old daughter Aliah. He is a member of the Arthroscopy Association of North America and the American Academy of Orthopaedic Surgeons. His fellowship was completed at the Pan Am Clinic in Manitoba, Canada and was focused on sports medicine and upper extremity reconstruction. While completing his fellowship he had the opportunity to locum in a rural hospital outside of Winnipeg where he focused on trauma and on-call services. During this year he obtained his Sport and Exercise Medicine diploma and was afforded the opportunity to participate in sports coverage for the NHL team Winnipeg Jets as well as the CFL Blue Bombers. He attended multiple games and actively participated in pre-season physicals.
Dr. Mollison has always had a passion for hockey and played for the Purple Eagles, Division 1 hockey at Niagara University in upstate NY, where he attended for his BSc. He later attended the University of Manitoba for his MD and completed his residency at the University of Saskatchewan. While in Saskatchewan he was fortunate enough to join a team and travel to Haiti where he was able to offer his services to the people that were in desperate need.
Thank you for welcoming Dr. Scott Mollison and his family to Watertown and to the North Country Orthopaedic Group.