Foot & Ankle Care
The importance of the foot and ankle in our daily activities cannot be overstated.  With its 26 bones, multiple joints, muscles, tendons and ligaments, the foot allows for complex movements and the flexibility needed for motion and balance.  In addition, its connection to the lower leg at the ankle affords us the ability to run, jump, stand on our toes and ride a bike.
The complexity of these structures and the tremendous forces placed on them as we walk, jump, twist and turn make the foot and ankle vulnerable to a variety of injuries and deformities.   Some of the more common injuries and conditions include:
Acquired deformities, such as Arthritis (foot ankle, great toe), Bunions and Hammertoes;
Structural conditions such as Flatfeet and High-Arched Feet;
Injuries and trauma such as sprains, fractures, and cartilage lesions; and
Ligament and tendon pain and instability, such as Achilles Tendon tears and ruptures.
Orthopaedic surgeon and fellowship-trained foot-and-ankle specialist Dr. Natalie Nielsen and her team use the latest techniques and treatment methods to address a broad range of foot and ankle conditions that can occur at any stage of life.  From newborns to adolescents, young adults to seniors, Dr. Nielsen provides her patients with the latest conservative modalities (medications, orthotics, physical therapy and exercise) to treat a range of complex problems.  And when surgery is needed, Dr. Nielsen offers her patients the most advanced surgical techniques employed in foot and ankle repair/reconstruction today, including:
Forefoot
Chilectomy/Moberg
1st MTP fusion
Cartiva implants
Bunion (lapidus or scarf)
Sesamoid excision
Midfoot
Midfoot fusions for arthritis
Hindfoot
Triple Arthrodesis
Subtalar fusion
Cavus foot reconstruction
Calcaneus fractures
Ankle
Ankle Fusion
OATS (talus)
Ankle fractures
Peroneal tendon injury
Ankle arthroscopy
Talus microfracture/biocartilage
Brostrom
Gastrocnemius recession
If you are suffering from foot and ankle pain and disability, give us a call at (315) 782-1650 or request an appointment online now.
In the News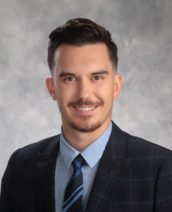 We are pleased to welcome Dr. Scott W. Mollison to the practice.
Dr. Mollison travels from Canada and is joined by his wife Christina and their 4-month old daughter Aliah. He is a member of the Arthroscopy Association of North America and the American Academy of Orthopaedic Surgeons. His fellowship was completed at the Pan Am Clinic in Manitoba, Canada and was focused on sports medicine and upper extremity reconstruction. While completing his fellowship he had the opportunity to locum in a rural hospital outside of Winnipeg where he focused on trauma and on-call services. During this year he obtained his Sport and Exercise Medicine diploma and was afforded the opportunity to participate in sports coverage for the NHL team Winnipeg Jets as well as the CFL Blue Bombers. He attended multiple games and actively participated in pre-season physicals.
Dr. Mollison has always had a passion for hockey and played for the Purple Eagles, Division 1 hockey at Niagara University in upstate NY, where he attended for his BSc. He later attended the University of Manitoba for his MD and completed his residency at the University of Saskatchewan. While in Saskatchewan he was fortunate enough to join a team and travel to Haiti where he was able to offer his services to the people that were in desperate need.
Thank you for welcoming Dr. Scott Mollison and his family to Watertown and to the North Country Orthopaedic Group.