Spine Program
Spine Specialists in Watertown, NY 
Anatomy of the Spine
The structure of the spine is designed to protect the spinal cord from external damage and infection while being flexible enough to move in almost any direction you choose. The adult spine stretches from the base of the skull to the tailbone, or coccyx, containing 24 separate vertebrae with cartilage between each one. A child's spine has 33 vertebrae and no coccyx. That forms later in adolescence. The spine is surrounded by muscles, connective tissues, and nerves.
Conditions Treated
When movement of the spine becomes rigid and painful, that is a clear sign that something is wrong. It might just be a pulled muscle, but it could also be a pinched nerve or degenerative disc disease. It takes advanced skill and extensive training to be able to diagnose spine conditions, because they often cause radiating pain throughout the limbs that can disguise the true cause. Common spine conditions include:
Treatment – Surgical and Non-Surgical
Many spine conditions respond well to non-surgical treatments such as rest, medication, and exercises to strengthen muscles that help support the spine. Some conditions also respond well to therapeutic injections aimed at reducing nerve inflammation, a frequent cause of back and neck pain, as well as pain radiating down one or more extremities. Sometimes though, a spine problem is severe enough that surgery might be the answer. In this event, you want a skilled surgeon with advanced training in the latest spine surgery techniques. Whether its conservative care or surgery you need, NCOG's spine team can help. Our spine specialists and therapists treat a range of routine and complex spine conditions using the latest treatment methods and surgical techniques, including:
Kyphoplasty
Microdiscectomy
Less-invasive Spine Surgery
Cervical and Lumbar Laminectomy and Laminoplasty
Talk to an expert today about our Watertown, NY spine program. Call NCOG for an appointment at (315) 782-1650 or request one online.
In the News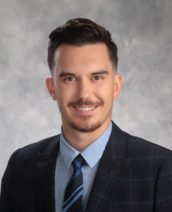 We are pleased to welcome Dr. Scott W. Mollison to the practice.
Dr. Mollison travels from Canada and is joined by his wife Christina and their 4-month old daughter Aliah. He is a member of the Arthroscopy Association of North America and the American Academy of Orthopaedic Surgeons. His fellowship was completed at the Pan Am Clinic in Manitoba, Canada and was focused on sports medicine and upper extremity reconstruction. While completing his fellowship he had the opportunity to locum in a rural hospital outside of Winnipeg where he focused on trauma and on-call services. During this year he obtained his Sport and Exercise Medicine diploma and was afforded the opportunity to participate in sports coverage for the NHL team Winnipeg Jets as well as the CFL Blue Bombers. He attended multiple games and actively participated in pre-season physicals.
Dr. Mollison has always had a passion for hockey and played for the Purple Eagles, Division 1 hockey at Niagara University in upstate NY, where he attended for his BSc. He later attended the University of Manitoba for his MD and completed his residency at the University of Saskatchewan. While in Saskatchewan he was fortunate enough to join a team and travel to Haiti where he was able to offer his services to the people that were in desperate need.
Thank you for welcoming Dr. Scott Mollison and his family to Watertown and to the North Country Orthopaedic Group.