Physical Medicine & Rehab
What is Physical Medicine & Rehab, or PM&R? 
The pioneer of physical medicine, Dr. Frank Krusen, established the specialty back in the 1930s after a personal battle with tuberculosis – a bacterial lung infection that commonly causes unintentional weight loss and muscle loss. In the 1940s and 1950s, the polio epidemic in the US created huge demands for physical therapists and physiatrists with Dr. Krusen's expertise. The physical medicine and rehabilitation (PM&R) specialty is rooted in physical therapy, but encompasses a whole-body approach to restoring maximum function lost due to an illness or injury. 
Conditions Treated
Doctors who specialize in PM&R can diagnose and treat adults and children with physical and/or cognitive disabilities and pain conditions. They have training in neurological disorders and musculoskeletal conditions. Rehabilitation physicians may treat people with:
Amputations / Prosthetics
Brain Injuries
Nerve Compression
Ulnar Neuropathy (Wrist Pain in Bicyclists)
Pregnancy-Related Back Pain
Work-Related Injuries
Treatment – Non-Surgical
A physical medicine and rehabilitation doctor, also called a physiatrist, takes time to accurately pinpoint the source of pain or disability. A variety of diagnostic tests can help, including electromyography and nerve conduction studies, X-rays, and MRIs.Treatment options are non-surgical in nature but can provide substantial relief. Therapeutic injections containing steroids, anti-inflammatory drugs, and pain medication may be offered in addition to specialized physical therapy. The goal of treatment is provide comprehensive care for the patient as a whole, not just the pain or disability.North Country Orthopaedic Group works as a team to make sure every patient receives the highest quality care possible. A physiatrist will consult with other members of our medical team, including orthopedic surgeons, endocrinologists, sports medicine experts, and physical therapists to achieve the best possible outcome. We want you to keep moving through every stage of life, and our PM&R doctors have credentials and experience you won't find anywhere else in Northern New York. We draw patients from all over the region because of our reputation for excellence. Call North Country Orthopaedic Group at (315) 782-1650 to schedule your consultation today or use our online form.
In the News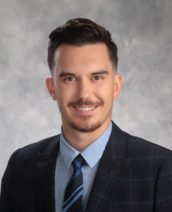 We are pleased to welcome Dr. Scott W. Mollison to the practice.
Dr. Mollison travels from Canada and is joined by his wife Christina and their 4-month old daughter Aliah. He is a member of the Arthroscopy Association of North America and the American Academy of Orthopaedic Surgeons. His fellowship was completed at the Pan Am Clinic in Manitoba, Canada and was focused on sports medicine and upper extremity reconstruction. While completing his fellowship he had the opportunity to locum in a rural hospital outside of Winnipeg where he focused on trauma and on-call services. During this year he obtained his Sport and Exercise Medicine diploma and was afforded the opportunity to participate in sports coverage for the NHL team Winnipeg Jets as well as the CFL Blue Bombers. He attended multiple games and actively participated in pre-season physicals.
Dr. Mollison has always had a passion for hockey and played for the Purple Eagles, Division 1 hockey at Niagara University in upstate NY, where he attended for his BSc. He later attended the University of Manitoba for his MD and completed his residency at the University of Saskatchewan. While in Saskatchewan he was fortunate enough to join a team and travel to Haiti where he was able to offer his services to the people that were in desperate need.
Thank you for welcoming Dr. Scott Mollison and his family to Watertown and to the North Country Orthopaedic Group.