General Orthopedics
What is Orthopedics?
The word "orthopedics" has roots in the Greek language–Ortho, meaning straight, and pais, for child.  The earliest orthopeaedists focused on correcting bone deformities in children using braces and other forms of treatment to make the child "straight."
Today, the scope of modern orthopedic medicine includes adults and children with any type of deformity, disorder, or injury to the musculoskeletal system. And treatment goes way beyond just making you "straight."
Conditions Treated
General orthopedics covers the broadest range of musculoskeletal ailments, ranging from common sprains and strains to traumatic fractures and multiple injuries. Some of the most common conditions we treat include:
Treatment – Surgical and Non-Surgical
Depending on the nature of your injury or condition, we can start with the most conservative treatment approach before resorting to surgery. Anti-inflammatory medication and customized physical therapy can go a long way to relieve pain and regain function.
Beyond that, we can try some interventional pain treatments to stimulate natural healing. But the first step is to see an orthopedic doctor; get an X-ray, MRI, or any other diagnostic tests; and arrive at a diagnosis. From there, we can design a treatment plan specifically suited to meet your needs.
If we do arrive at a diagnosis that is best treated surgically, North Country Orthopaedic Group is an excellent place to be. Our orthopedic surgeons have decades of experience with patients just like you. We understand what you're going through and can ease your concerns about surgery and recovery. Special medication and post-operative rehabilitation can shave time off of your recovery, so you can get back to the activities you enjoy most.
Call North Country Orthopaedic Group in Watertown, NY for more information and to book an appointment. Whether you want a second opinion or have an urgent injury, we are happy to help. Call (315) 782-1650 or request an appointment online now.
In the News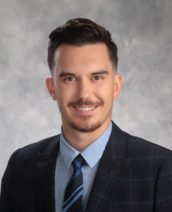 We are pleased to welcome Dr. Scott W. Mollison to the practice.
Dr. Mollison travels from Canada and is joined by his wife Christina and their 4-month old daughter Aliah. He is a member of the Arthroscopy Association of North America and the American Academy of Orthopaedic Surgeons. His fellowship was completed at the Pan Am Clinic in Manitoba, Canada and was focused on sports medicine and upper extremity reconstruction. While completing his fellowship he had the opportunity to locum in a rural hospital outside of Winnipeg where he focused on trauma and on-call services. During this year he obtained his Sport and Exercise Medicine diploma and was afforded the opportunity to participate in sports coverage for the NHL team Winnipeg Jets as well as the CFL Blue Bombers. He attended multiple games and actively participated in pre-season physicals.
Dr. Mollison has always had a passion for hockey and played for the Purple Eagles, Division 1 hockey at Niagara University in upstate NY, where he attended for his BSc. He later attended the University of Manitoba for his MD and completed his residency at the University of Saskatchewan. While in Saskatchewan he was fortunate enough to join a team and travel to Haiti where he was able to offer his services to the people that were in desperate need.
Thank you for welcoming Dr. Scott Mollison and his family to Watertown and to the North Country Orthopaedic Group.